Bioidentical Hormone Replacement Therapy (BHRT)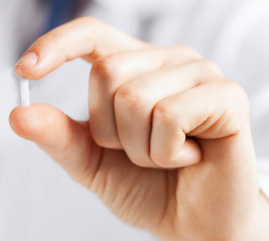 As we age, our bodies' ability to produce hormones is often disrupted. When hormone levels are disrupted, we often experience a variety of unpleasant symptoms, including fatigue, high blood pressure, weight gain, loss of libido, loss of energy, loss of calcium in bones, mood and memory dysfunction, sleep disturbance, and more.
Bioidentical hormone replacement therapy (BHRT) counteracts hormone imbalances and replenishes hormone levels by using a highly effective, safe pellet insertion method.
The Power of BHRT Pellet Therapy
CareMEDICA's method of pellet therapy is the preferred method within the field of medicine. Our pellet therapy is far and away the safest and more effective form of Bioidentical Hormone Replacement Therapy. In fact, it remains the only form of delivery that so closely mirrors the body's natural hormone generation.
Our pellets, once implanted and absorbed into the body, replicate what the human ovaries and testicles once did in abundance; you'll experience a resurgence of hormones and be resotred to a healthy, youthful state.
Once returned to a healthy hormonal state, your sexual performance will be reinvigorated, energy and vitality improved, bone loss decreased, and muscle mass increased. In short, your body will once again function as it is supposed to.
Pellet insertion ensures a steady, around-the-clock, streamlined delivery into the body, meaning you won't have to bother changing patches, rubbing on creams, or remembering to take pill.
Alternative methods to pellet insertion can often come with a potential for harsh side effects such as radical surges and drops in blood levels. Creams, pills, and patches all deliver wildly inconsistent amounts of hormones and do not mimic how the body naturally delivers hormones. The pellet insertion method remains the safest and only delivery system that provides steady blood serum levels over time.
Treatments
Men's Testosterone Treatment for "Low T"
Menopause Treatment
Parkinson's Disease Treatment